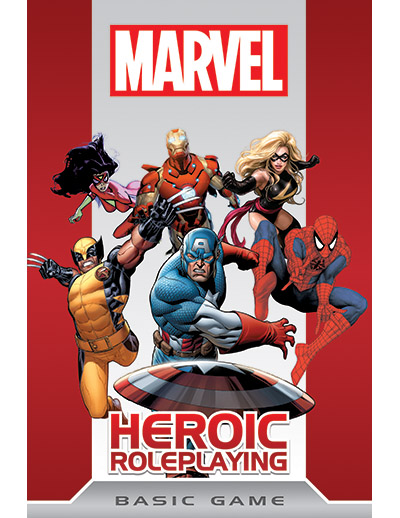 Despite my many hours playing Dungeons & Dragons since 2005 (after a 24-year absence from the game), I'm really not much of an RPG gamer. I love FASA Star Trek RPG, but what do you expect? I loved Enterprise! I've played Gamma World 4e, Legend of the Five Rings (3rd edition) three times, Dragon Age RPG (Green Ronin Publishing) a few times (mostly as Game Master), and Star Wars Saga Edition once (again, as Game Master). I enjoyed all of those games but played Call of Cthulhu d100 twice and hated it. If I've played any other RPGs with dice, I don't remember it off the top of my head, so apparently they didn't make much of an impact.  (I've also played the diceless RPG, Fiasco, which was great.)
I'd like to broaden my horizons as far as RPGs are concerned, so when my friend, Rishi, offered me the chance to join his new Marvel RPG game, I jumped at the chance. I've heard good things about it, so I was intrigued even though I never read comic books. (Come to think of it, I'm not a good geek in general. I don't play video games, and I find Dr. Who to be retardis.) I wanted to play the mechanics everyone was talking about, so I agreed to play for a couple of sessions before gracefully bowing out.
I don't think I'll be bowing out. Our first session was a lot of fun for me. My approach to RPGs has always been to focus on a character concept, where the character has some interesting, overriding character trait, usually but not always a flaw. I then play that trait to the extreme. With my group, that wasn't only tolerated but welcomed with open arms. As comic book fans, the other players liked the fact that I played my character's traits so faithfully, even to the detriment of the team, because these are the characters the players love.
Incidentally, I played a guy by the name of Hank Pym, a.k.a., Yellow Jacket. I'd never heard of him but am sure that means something to a lot of you. It also meant something to my cousin, Tom, who still collects comics. When Rishi gave me a list of characters from which to choose, I passed the ones in favor of the Super Human Registration Act to Tom, who told me to pick Yellow Jacket. It's worked out so far. An insecure, nerdy guy who 1) supports government registration of people, and 2) gains experience points by blaming his own major failing on a loved one? Yeah, I can do this.
Mechanics
And that (finally) brings me to my first point. The mechanics of the game have their flaws, but overall it's an fun system, especially for someone like me.
The Bad: The dice rolling is unnecessarily convoluted, requiring you to figure out which types of dice to roll (d4, d6, d8, d10, or d12) and in what number every single time you roll. Once I'm used to it, it'll probably become second nature, but it creates a barrier for entry. If I were the rule rather than the exception, the group probably would have moved on and never played it again. Instead, I was the odd man out. I was the only one that didn't have experience with the game and wasn't a comic book reader. Keeping this game going will be easy despite the unnecessary complexity, but I don't think that will be the case for all groups.
The Good: Rewarding me for domestic violence? Brilliant! I know that sounds bad, but stay with me. No one's perfect, not even superheroes. We all have flaws, and a role-playing game that doesn't hide from that fact, even among the heroes, is exactly what I need to make me happy. (Also, I don't actually have to beat my wife in the game. It's not necessarily that specific.) Needless to say, this doesn't always go over well in other systems. In 4e D&D, I have a stereotypical, senile old man, Luigi, who's great for comic relief, but when I play him in character during combat or role-play, he usually makes bad decisions. It's never once actually hurt the group when all was said and done  — he was responsible for winning a "social skill challenge" in one adventure despite his eccentricity — but while it's occurring, it's tough to convince the other players of that. Some people get very annoyed by his erratic behavior. With Marvel RPG, no one is complaining, and I doubt this is a characteristic of my group itself. The mechanics of the game actually encourage me and them to act the fool at times. And it works.
The Good but with a Caveat: The initiative system is fantastic, but it wouldn't work in a game like D&D where building a character to go first has so many advantages. Other game systems would have to be tweaked dramatically to allow for the Marvel RPG initiative system. Still, it's something every game publisher should at least consider.
It's All About IP
My second point is, as always, that the world lives and dies based on intellectual property law, and this is the more important of the two points. IP law governs everything, and there's a lesson to be learned here. RPG publishing is a low-profit exercise. It's tough to do well in it, and whether most publishers will admit it or not, it's ability to succeed as well as it has depends a great deal on the continued success of Wizards of the Coast. WotC produces Dungeons and Dragons (among others), and does so with the mighty weight of Hasbro behind it. They're able to do things no other RPG publishers can do, and the entire industry benefits as a result. However, even WotC could hold on to the Star Wars license for only so long. With such a low profit-margin in the first place, having to give up a non-negligible chunk of that in the licensing fee reduces the profit margin even more. Also, unless you're willing to give up and even bigger chunk of the profits, you have to settle with a non-exclusive license (if it's even offered), meaning you won't even be the only game of your kind available. It's a no-win situation over the long haul.
With that in mind, be disappointed but not angry. I've never met or spoke with Margaret Weis, so I have no inside information here, but I'd put good money on the bet that she had a very good reason for letting the license go. This isn't the fault of Ms. Weis, or of Marvel. It's just the nature of the industry. The game was selling well, but the numbers just don't add up in the long run. Everyone needs the core rulebook, but sales of add-ons will always be at least a little less, and often will be much less.
Fortunately, there's a lot of material out there with even more to come, and many gamers will put together supplemental materials in the form of PDFs freely downloadable from their private sites. This game won't die anytime soon, and that's a good thing.
The End
Despite my optimism in the two sentences immediately preceding this one, it feels like there's been a death in the family (not that bad, though; on the level of a step-cousin). 🙂 I just wanted to offer a eulogy of sorts, if for no other reason than to make myself feel good about it. It's a good game, we'll all continue to play it, but like all good things, eventually it must come to an end, and no one is to blame for that. Gaming will go on.
As always, happy gaming!
Follow me @GSLLC
Follow Rishi @GamingMeerkat
Follow Green Ronin Publishing @GreenRoninPub